As always if you can't be bothered to read this article just watch the video.
Let's think about a common Jira issue in this post. Closing, moving or resolving more than 20 tickets one by one can be a bit tedious task, and what bout 500 or more issues? Oh, and by the way, you don't have any cool plugins like the Script-Runner in your instance either.
The answer for this is Bul Operation in Jira. In my opinion, a bit hidden gem and you are going to need it sooner than later. In my scenario was all about blocked issues.
Last time when I checked was more than 500 (tickets) issues in blocked status. I would say it's widespread. Also, nobody was bothering to move them for months or even years. Often Blocked Status is like a workflow graveyard. So… let's sort it out fast!
Easy to say, but how?
By the way, this tutorial will work on Jira Cloud, Server or even Jira Core in the very same way.
Step one, navigate to the Search Navigator and create a search query so you can filter all required issues. In my case, it's a straightforward query. Because I'm looking for all tasks in blocked status will like this: "project = DC AND status = Blocked order by created DESC"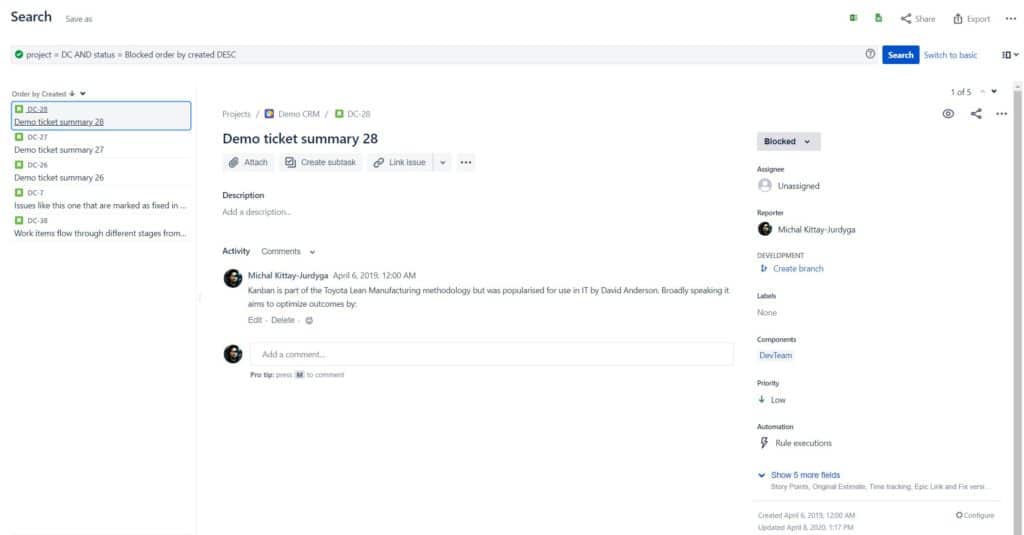 Now step 2. From the "Meat Ball" menu (right top corner) select Bulk Change. Next, select all issues in my case 547 lol and during the next step, choose "Transition issues".
I will be moving all 547 tickets to Done but think about it first. Maybe you have to move a few issues back to In Progress.

Ok, we are almost done just one more important step. By default, Jira will set "Send mail for this update" which I don't want. However, it's good to notify users about status change, so maybe in your case, it can be Ok to send emails.

Ok, job well done. So now you know how to resolve tickets in bulk. Of course, it's more than that. You can move, edit or transition issue using bulk operations—just one small thing.
Max limit for bulk operations is 1500 tickets at once. Not a big deal if you create a search filter. Let me know in the comments what do you think.